MEN'S CLOTHING
In the current market, there are only a few Bulgarian stores that offer men's clothing with an excellent balance of quality and price. Fortunately, we are one of those stores, and below we will explain why. We will outline the advantages of shopping online with us and provide a brief introduction to our offerings.
Advantages of TEODOR: Firstly, we provide a wide range of categories that encompass various clothing models and sizes. This extensive selection allows you to choose the exact garments you desire in terms of color and design, with utmost precision.
For those who enjoy shopping for bargains, we have a special "Discounted" section where all items are offered at promotional prices. Despite the affordable prices, the products in this section are of high quality. This sets TEODOR apart from other competitors. We regularly update this category, and we highly recommend checking it daily for promotions and discounts or subscribing to our newsletter.
We have meticulously curated complete sets for you, which include matching colors, sizes, and follow the latest fashion trends. By purchasing one of these sets, you can achieve a stylish and elegant look down to the smallest detail, such as the tie, shoes, suit, shirt, and more. Whether you are getting ready for an important business meeting or your wedding day, no other competitor offers a similar package.
all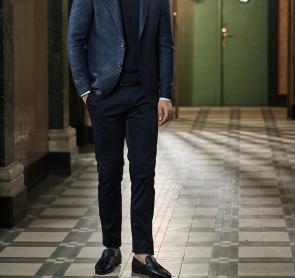 03.11.2023

Как се стесняват мъжки панталони?

Позната ли ви е ситуацията, когато намирате перфектните мъжки панталони, които обаче не са точно по вашия размер. Обикновено проблемът е с тяхната дължина, ширина или обиколка на талията. За щастие в такива случаи помага стесняването, което всъщност не е толкова трудно, колкото изглежда. В този материал ще разгледаме основните методи и съвети за стесняване на мъжки панталони.